Products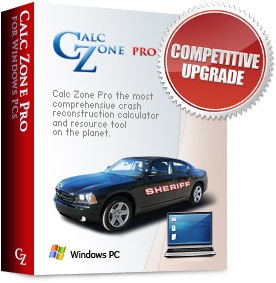 Competitive Upgrade
Limited Time Offer If you own other crash reconstruction calculation software, you can purchase Calc Zone Pro at a reduced price as a competitive upgrade. With a 30 day guarantee, you have nothing to lose.
read more
---
Platform(s):

Windows XP/Vista/Windows 7 (1 license)
Price Per Copy: $229.00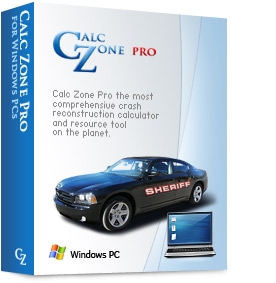 Calc Zone Pro for Windows Desktop and Laptop PCs
Calc Zone Pro is the new generation of Accident Reconstruction Calculation software. There is no other program that organizes and prepares your reconstruction reports like this one on the planet. Calc Zone Pro has been designed and engineered by Accident Reconstructionist Professionals and is, therefore, custom designed with convenience and accuracy in mind. This software makes reconstructing accidents much less time-consuming with its many different applications. Both seasoned and novice reconstructionists will find the program undeniably useful and easy to use. With the Right-now results and the simple Total Math Reporting capability, reconstructing accidents has never been so organized. Step-by-Step Math Equations are part of your report, so you will not have to worry about trying to remember how you derived your calculated results weeks or even months down the road during depositions or court.
read more
---
Platform(s):

Windows XP/Vista/Windows 7 (1 license)
Price Per Copy: $299.00